Hello Band Parents & Family,
​
I hope your COVID-19 Quarantine has served you well. I certainly have enjoyed the extra time spent with my family. However, I certainly am missing the Salem Band Family as well! I can't tell you right now if we are ever going to be able to get together to play by the end of the year or not. All band performances other than Graduation will be canceled as of now. However, I wanted to encourage you to keep practicing and enjoy playing your instruments. I have probably shown you this video about why you should be creating music on your instrument everyday! Watch it as a quick reminder. Also, please make sure to keep up to date with items on the school website. Our administration asked us to remind students and parents to take advantage of the free lunch program.

I am sure it is getting lonely for you around the house. I have updated our website with many new resources to keep you engaged: www.salemr80.org/media--resources

Also click this link for special deals going on right now due to COVID-19 that you should take advantage of. If you would like any feedback on anything or you have another resource you would like for me to share on the website or with students please email me.

Enjoy making music!


David Schatz
Salem R-80 Band Director
1400 Tiger Pride Drive
Send Email to David Schatz
28 Salem Students Make 2020 Sca Conference Honor Band
February 1, 2020 -- Congratulations to the 28 students who performed with the SCA Conference Honor Band on February 1, 2020 at Ava High School. These students auditioned back on January 7 and were selected to perform with the bands. The Salem R-80 High School had 21 students represented, Salem R-80 Middle School had 11 students and Northwood R-IV School had 3 students.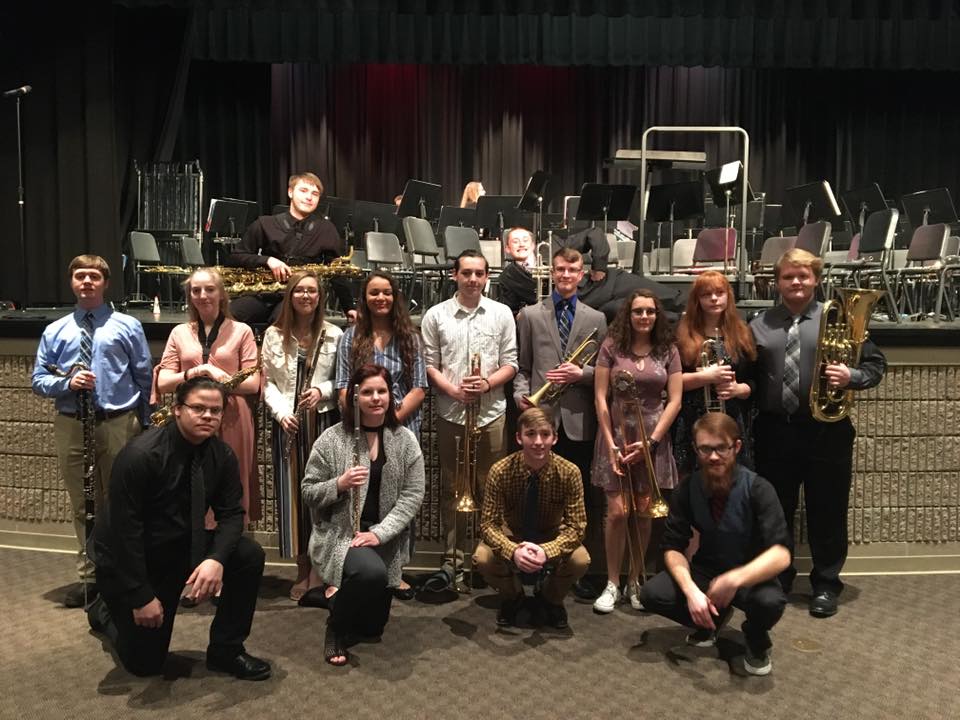 Row 1 - Marvin Aspinwall, Harmony Alexander, Taytan Barton, Jonithan Gallagher
Row 2 - Martin Jones, Megan Watkins, Faith Jasper, Collin Hinderliter, Christopher McSwain, Kelsey Stienbarger, Reagin Toten, Christopher Harris
Row 3 - Ashton During & Johnathan Stark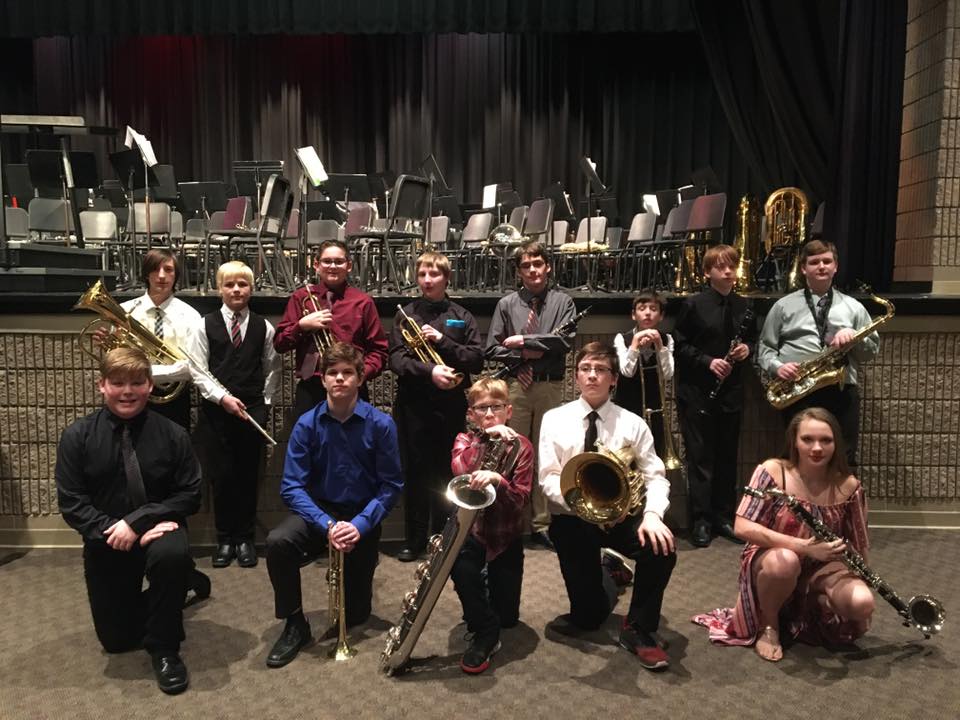 Row 1 - Xander During, Jacob Koontz, Harley Medley, Nathan McGraw, Natily Cook
Row 2 - Jacob Bender, Hunter Barton, Wyatt Patrick, Rory Dahms, Christian Frederickson, Parker Holtz, Kaison Wilmont, Jarrod Brooks
2020 ​Middle School District Band
January 18, 2020 -- Salem R-80 Middle School had eight students participate in the 2020 Central District Honor Band on Saturday, January, 18th. They performed a concert at Waynesville High School.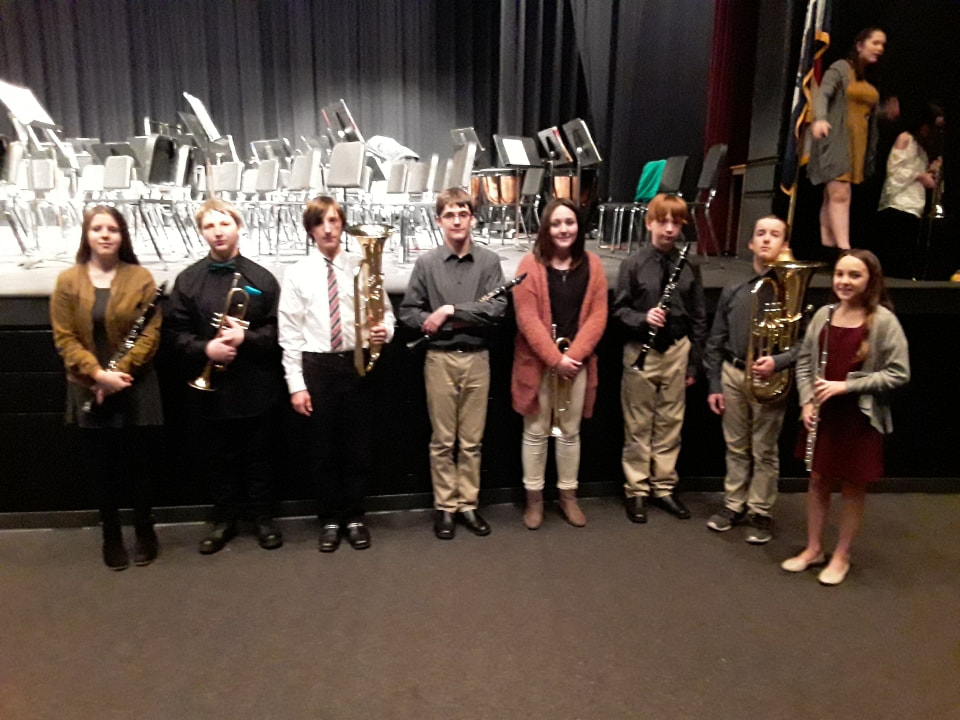 From left to right are 8th Graders Ayva Callicutt, Rory Dahms, Jacob Bender, and Christian Frederickson. 7th Graders: Cassie Scott, Kaison Wilmont, Preston McFarland and Lindsey Hinderliter.
2019-20 Hs District Band Results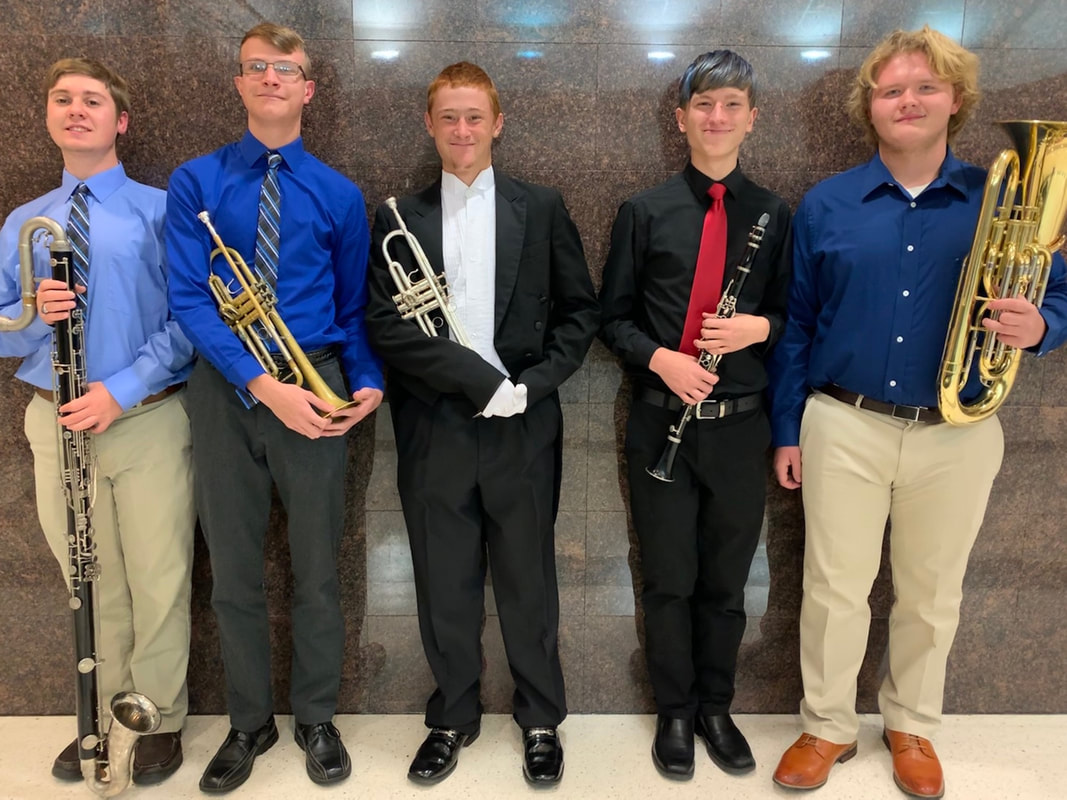 Martin Jones - 1st Chair Contra Clarinet, Christopher McSwain - 9th Chair Trumpet, Johnathan Stark - 10th Chair Trumpet, Toby Hutto - 7th Chair Clarinet, Christopher Harris - 2nd Chair Baritone.
November 2, 2019 -- Five students represented the Salem High School Band in the 2019 Central District High School Band.

Students are eligible to audition for All-State Band on December 7, 2019.
Have You Visited Our Media & Resources Page?
Our Media & Resources page has many things. It includes many additional resources to help you progress in learning your instrument. It also includes fun games and useful tools that you may use to learn your instrument.
Want To Know Your Progress?
Check Your Band Points Here